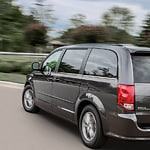 You want to be prepared for an accident, but avoiding one altogether is even better. In the Dodge Grand Caravan, you can be even more certain that you have the safety features that will help you prevent a car crash, and at Lithia Chrysler Jeep Dodge of Missoula, we want to tell you all about this popular family mini van.
If you've ever felt your tires slipping on the road, you know all about what a terrifying experience it can be. With the Grand Caravan, you'll be thankful for the all-speed traction control, which applies brake pressure and reduces engine power to keep all four wheels safely on the road.
And when you're getting ready to leave, it's easy to forget to check behind your vehicle to ensure that there's nothing behind you. But what if a child or pet had wandered behind the wheels? With the backup camera, you can check as you're backing up. Take a test drive of a Grand Caravan at our dealership today.