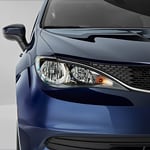 The Chrysler Voyager has many technologies that boost safety. This guide highlights two standard technologies that provide strategic safety advantages on the road. You can check out all of the Chrysler Voyager's great technologies at Lithia Chrysler Jeep Dodge of Missoula.
Noise Cancellation Technology
When you're driving a vehicle, one distraction could lead to an accident. To reduce distractions, the Chrysler team designed a very efficient noise cancellation system, and it's included with the Voyager. This technology basically reduces the intensity of outside sounds in order to make the cabin more peaceful during commutes on busy highways.
Blind Spot Monitoring System
Blind Spot Monitoring complements the noise cancellation system because it increases awareness in a different way. This system uses sensors to monitor the surroundings on the road. If another automobile accesses the Voyager's blind spot, the system will alert. During an alert, a very noticeable icon lights up in the exterior mirror.