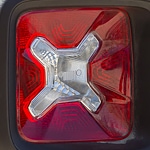 With the Jeep Renegade, you will be getting a subcompact SUV that has become rather popular thanks to its many features. It also looks great, so you will feel great driving this all over Missoula and beyond. Begin your quest for a new vehicle by taking into account the following exterior features.
You will love the feel of the open air as you take off the removable sunroof. This gives you the feeling of a Jeep, while knowing that you can easily put it back on when needed. When you do remove it, you will find that it stores flat in the cargo hold for you.
When it comes to wheels, you will have several different options with the Jeep Renegade. You can select from different finishes on either a 16 or 17-inch wheel base. This is a great way to customize your new vehicle. Lithia Chrysler Jeep Dodge of Missoula would be happy to arrange a test drive for you.