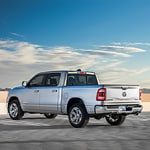 Are you in the market for a quality light-duty pickup truck? Consider the popular Ram 1500. This is a vehicle that you should see for many reasons, including its robust safety features.
High-Strength Steel

The frame and cab of the Ram 1500 is created with high-strength steel that contributes to its overall durability. More importantly, it helps to keep you safe on the road. This is also a key reason why the 1500 is easy to handle.

Largest-in-Class Standard Brakes

?There are 14.9-inch standard brakes in the Ram 1500, which is a significant size. It's especially beneficial when carrying a load. The brakes on the 1500 are top-notch and a leader among vehicles in the same class.
Now is a great time to test drive a Ram 1500 at Lithia Chrysler Jeep Dodge of Missoula. You'll see why this pickup truck continues to get so much attention.